Website Trends of 2013 and Beyond!
August 22, 2013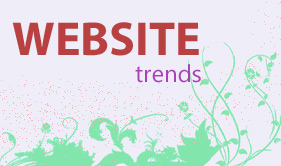 Keeping your website up-to-date with the latest nifty website trends is important, so here is a list of some of my favorite new technologies that are shaping the internet.
1. Single Page Design (SPD)
A SPD is one of the latest website trends that include all website content on just one page, like an online flyer. It is adaptable to mobile devices and is proven to have better conversion rates than the standard multi-page website.
Examples:
2. Infinite Scrolling
Everything in our universe has an end, except for 2 things: a ball, and a website with infinite scrolling. The more your visitors scroll down the page, the more content you throw at them.
Examples:
3. Parallax Scrolling
Once upon a time, there was a scrollbar that would move a webpage and reveal more content. Then parallax scrolling came into the picture and now the scrollbar does so much more. This special technique can turn your website into a 2D animation, utilizing depth of field while your visitors scroll down your webpage.
Examples:
4. Responsive Design
Apparently size does matter, and your website probably isn't being viewed on a large monitor anymore. Your website now needs to be responsive to look just as sexy on a tablet or cellphone.
Learn more about responsive design here: https://simplistics.ca/responsive-website-design-should-you-have-a-mobile-website/
Examples:
5. WebRTC
This might not be a 'trend' yet, but it will be. WebRTC is a new technology that allows you to connect to your peers using any modern internet browser. Transfer files, start a video conference, or even screen-share your browser without the need for any special plugins or server-side technologies.
Examples:
6. Retina Display
Apple decided to innovate the way the internet looks and created the ultra-high resolution "retina display". This innovation revealed to the world what websites' are truly made of: small text and super-fuzzy images. Retina-ready images is the new trend all websites must adopt so your website still look pretty on all screens.