Using Yoast: Rank your WordPress Website in Toronto
July 24, 2017
One of the main reasons everyone loves WordPress is because it's super search engines friendly. You can control the way search engines, like Google, sees your website. For example, you can easily modify the title and description tags on your website by going to Settings -> General after logging in: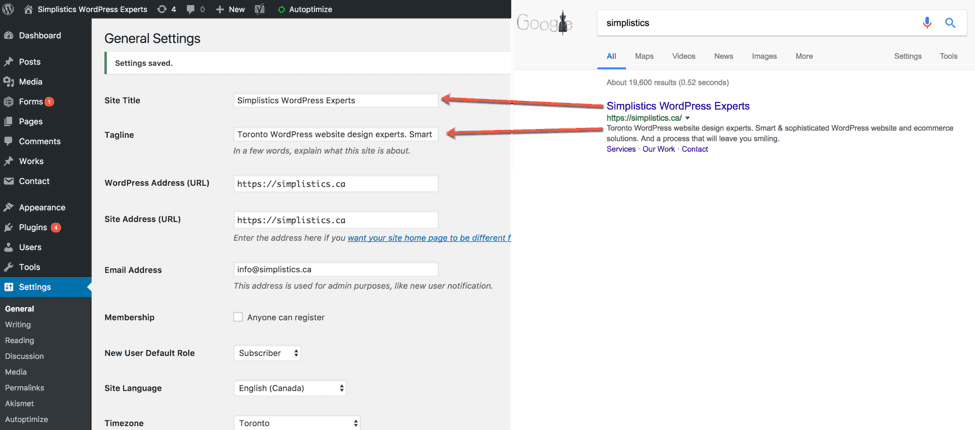 As great as WordPress is, you can improve your website's search ranking greatly by installing Yoast, one of the most-downloaded plugins available for WordPress.
Yoast provides your WordPress website with a vast set of tools that put you in the driver's seat. Some of my favorite tools include:
Page-specific control over your Site Title and Tagline
Even though WordPress gives you the ability to change the site title and tagline globally for all your pages, Yoast allows you to have page-specific titles and taglines.
These titles and descriptions are what appear in the search rankings when someone stumbles across your page – so make it catchy!
An automatically-generated sitemap
A sitemap is a file which contains a list of all your pages and posts, the last date they were modified, and how often they are modified.
Here's a sample of the sitemap Yoast generated for Simplistics: https://simplistics.ca/page-sitemap.xml
Yoast will automatically create this file for you, so you can then submit it to Google Search Console and make sure these pages appear within their search results.
To learn more about submitting your sitemap to Google Search Console, click here: https://kb.yoast.com/kb/submit-sitemap-search-engines/
Key term focus
One of my favorite stories about running Simplistics Toronto Web Design is the way we launched our website. At first, we were targeting the key term "Web Design Toronto", but we got almost no traffic. That's because this term isn't very specific – Toronto has hundreds, if not thousands of web design shops.
We had to change our approach and instead made our focus key term more specific. We now target "Toronto WordPress Web Design", "WordPress Design Toronto", amongst other WordPress key terms. At this time, no other company in Toronto were WordPress-based (I'm proud to say we were the first!), and this really helped launch our website.
So, how did Yoast help us focus our key terms?
Within the title of our website, the page descriptions, the content titles and within each paragraph, we used as many variations of the term "WordPress Web Design Toronto". Google saw how often we used the term, and we started ranking on the first page for these terms. Soon, our phone was off the hook!
Yoast has a great feature called "Focus Keyword" and it automatically looks at your page and tells you how well you're focusing on that key term.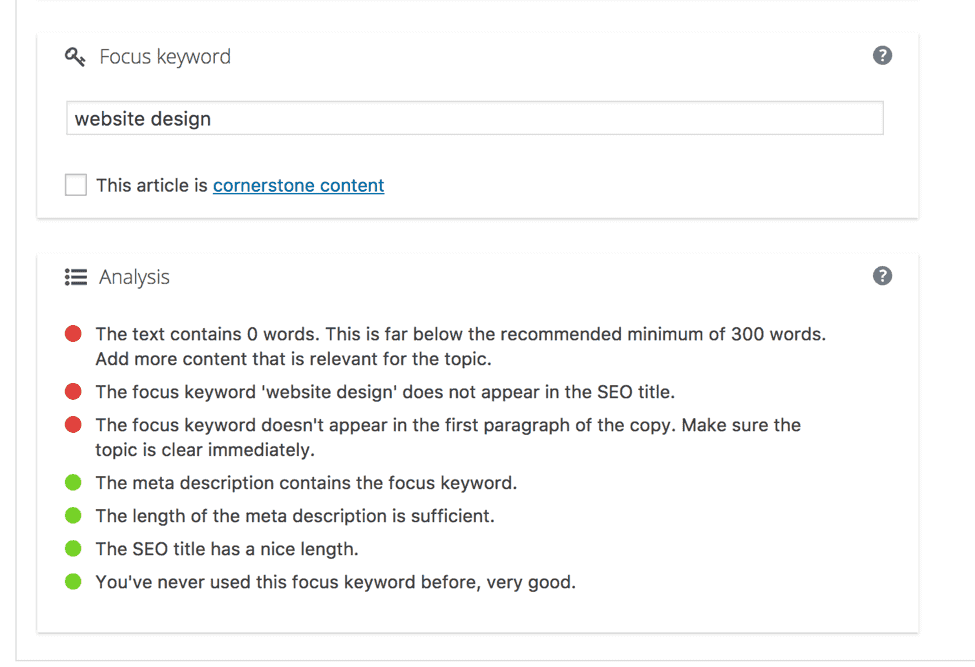 You can see that in the image above, the key term we're focusing on is "website design", but Yoast detects that this key term doesn't appear in places that it should, which could be hurting our rankings. Usually, it's good to see everything listed under "Analysis" as green.
If you're running a WordPress website and want to get ranked on Google, download Yoast. You'll notice the difference like I did.