The best social media websites for your business
June 7, 2013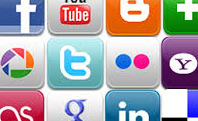 No matter how obscure your business might be, you probably still have to worry about competition. Out-marketing your competitors can become expensive and time-consuming, especially when trying to have a high website ranking on the internet.
There are costly services available, like Google Adwords that will guarantee you a top spot in the search results. The investment might be worth it, but there are other avenues – free avenues – that you can take to market your business. The most effective way to sell your products, communicate with your customers and advertise your name is through social media.
Below is a list of some of the best social media channels that I've used. You should make sure your company signs up and takes adventage of these free marketing tools.
Google+ Business Page
Twitter
Facebook Business Page
Linked-in Business Page
Vimeo
DailyMotion
MetaCafe
Youtube
Diigo
Scoop.it
Delicious
Fluther
Plurk
Jeqq.com
SpicyPage.com
BessOne
Q1GO
URL.org
KnowEm
Reddit
Digg
StumbleUpon
Pinterest
Locr
Flickr
SmugMug
Panorami