SEO tips for your web design
November 15, 2021
Almost any business can pay Google big bucks to have their website ranked at the top of paid ads, but with a properly planned and developed website you can also rank at the top of Google's organic results. Leveraging search engine optimization (SEO) isn't only a way to get your name in front of more eyes for a fraction of the cost, but it shows your customers that you care enough to put the time into reaching them through hard work and effort and not just by purchasing prime real estate. Simply put, it takes a lot more effort and credibility to hit the top of an organic search result.
Beyond having properly structured code, there are content driven factors that help your website climb to (and stay at!) the top of organic search engine results pages (SERP). The relevance & quality of your content and the authority of your website in your given industry are key to your success. A SERP's primary goal is to help people find what they're looking for. Following best practices allows a search engine to feel confident that you meet your user's objectives
You might wonder why it's important to focus on organic search results when paid slots are easier to grab and often the first to be seen. Fifty-three percent of all trackable website traffic comes from organic search. SEO is grounded in a set of practices designed to improve the positioning of web pages in organic search results and it can take anywhere from 2 weeks to 6 months to see the full benefits of a fully formed SEO strategy.
Search engines learn from user search behaviour and the algorithms are constantly evolving. Search engines use bots, often called spiders, to crawl pages on the web. Spiders go from site to site collecting information about those pages and putting them in an index. The algorithms then analyze pages in the index, taking into account hundreds of ranking factors or signals, to determine the order in which websites are shown to a given keyword or search. The diagram below is an overview of how search engines work.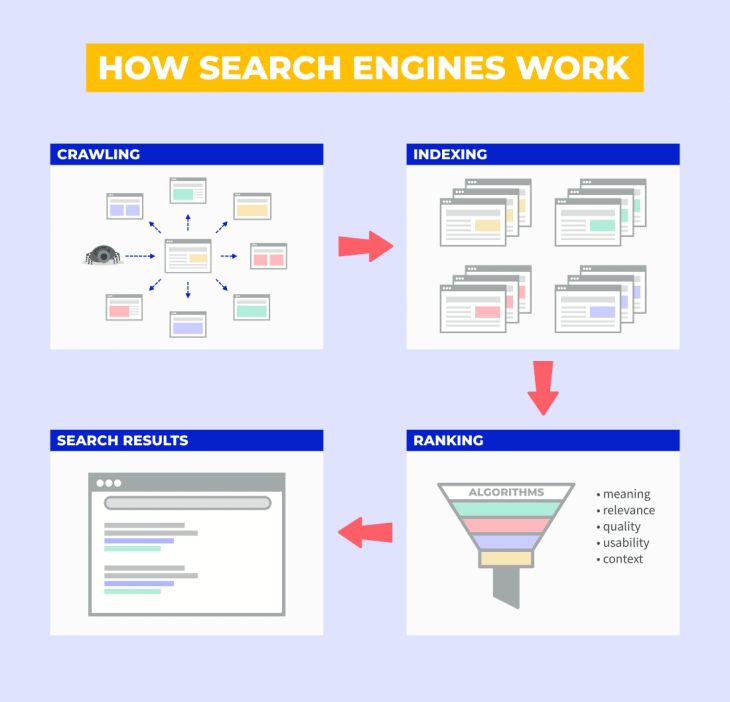 Image Source: https://mangools.com/blog/seopedia/crawling-indexing/
SEO Tactics
Although there are many ways to leverage what we know about how SERPs rank websites, some are more popular and easily achieved than others. Below are just a few of these common content tactics to quickly improve your SEO ranking.
1. Long-tail Keywords
Long-tail keywords are keywords or keyphrases that are more detailed than commonly used keywords, but focus directly on your user's objectives. Optimizing for long-tail keywords allows you to find your niche audience much easier with less keyword competition. These long-tail keywords get less search traffic, but they will have a much higher conversion and engagement rate due to the specificity of the search. You're more likely to meet a user's requirements if they're matching your long-tail keywords.

An example of a simple keyword and a long-tail counterpart can be seen in the image below, from semrush.com. "Tomato Plant" will have a high search volume with much more traffic, but might not help the user find the information they are looking for and is highly competitive to rank well for. Focusing your content and keywords to match "why are tomato plants turning yellow", if this is the question that your content answers, means lower search volume with less competition while hitting a higher conversion rate due to relevancy.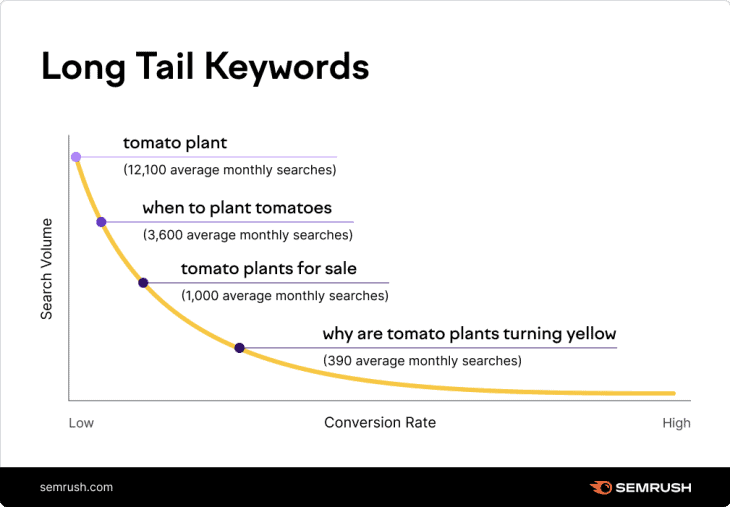 Image Source: https://www.semrush.com/kb/685-what-are-long-tailed-keywords
 Web and search engine use has shifted towards being much more conversational in nature, and therefore long-tail keywords are much more aligned to how users search online these days. Where this wasn't always the case, long-tail searches accounts for roughly 70% of online searches. According to a study by longtailpro.com, long-tail keywords now account for 70% of all online searches. Long-tail keywords require knowing the true objective of your users and focusing your efforts on answering their direct questions. Here is a great article by HubSpot with tools for finding long-tail keywords in 2021.
2. Backlinks
Backlinks (also known as "inbound links", "incoming links" or "one-way links") are links from one website to a page on another website. A backlink is simple: if another website links to yours, this is a backlink.  Google has confirmed that backlinks remain one of their three most important search engine ranking factors, but it's important to understand how they can impact a website positively and negatively.
Google values what other sites have to say about you and therefore the more sites that link to you, the more likely you are to rank higher. However, before you go ahead spamming your website in the comments of popular news sites, take note. The authority and integrity of the websites linking to yours is more important than the number of backlinks. It is important that backlinks to your website are primarily from trusted sources, organically incorporated into content and ideally from websites related to your industry and content. Just as you are building your authority and integrity, the sites linking to you must do the same. 
3. User Experience
It is important that you make sure searchers are satisfied with your content and the user experience you create. Performing well on search engines can be impacted by your users' interaction with your site. Data like how long users spend on your site, how many pages they view, and if they return to your website all factor into ranking well. Similarly, if users are leaving your site quickly after clicking from an SERP, it might be a sign that your content isn't able to help them, which will hurt your ranking.
This highlights the importance of providing a solid user experience with clear content for all devices. According to statista, mobile searches now make up more than 50% of the queries on Google, Yahoo and DuckDuckGo. If a mobile user lands on your site and it's not optimized for their device, they certainly will try somewhere else. Google is working on splitting desktop and mobile into separate indexes and mobile will be a primary focus, so this can have a huge impact on your organic ranking.
As with all practices, these can impact your website for better or for worse. It's important to really understand the reason behind each tactic and understand that there are many other factors at play when it comes to ranking well. Algorithms are always changing and the end goal should simply be to get the most relevant content to your users in an easy and practical way. At the end of the day, if you're focused on what your customers or clients want you should expect to see natural growth in your SEO results.