Google Plus vs. Facebook – Social media for your business
July 8, 2013
Wanting to tap into Facebook's market of 1.1 billion users, Google created the shortly-lived Google Buzz in 2010. Like many of Google's recent products, Google Buzz was taken offline just 22 months after it launched. Also just like many of Google's recent products, they quickly launched an even better service. Google+ is now the second most popular social media network, kicking Twitter to the curb with its 500 million users.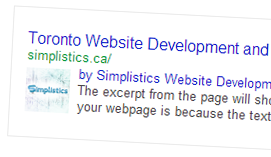 To see a list of some great social media platforms, check out this post: The best social media websites for your business .
The reason Google+ will continue to succeed is because of how it benefits your business. 
A Google+ business page will not only

improve your general website's ranking, but it will also specifically improve your ranking for anyone in your Google+ Circles.

By connecting your business page to your website, your Google+ profile picture will display right beside your search listing, letting your website stand out from your competition.

Your Google+ business page will be linked to your website in Google's search – and allow users to +1 your page!
As long as Google+ benefits businesses, businesses will continue to push their followers to use Google+.
If you haven't already, sign up here.