Get Rid of Spam
May 14, 2013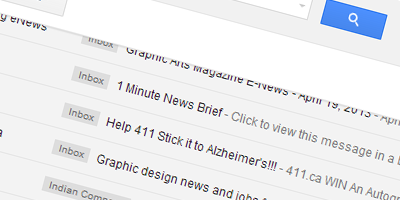 Spam is a constant problem that everyone hates dealing with. It is estimated that ninety percent of all emails are unsolicited. Certain mail applications like Google Mail or Yahoo Mail use a sophisticated anti-spam software that scans your emails for unwanted words automatically, but doses of spam will still find it's way on your computer.
Here is a little secret that will help you fight spam in your inbox:
Within your email's settings, add a filter that removes any emails that contains the word "unsubscribe".
Can-Spam (or CASL in Canada) created guidelines which force all spammers to add an "unsubscribe" link to all the unsolicited emails they send. By filtering all emails that contain the word "unsubscribe", your spam troubles will be no more.
Don't know how to add a filter to your email? Here are some guides:
Outlook: http://office.microsoft.com/en-ca/outlook-help/create-a-rule-HP005242897.aspx
Google Mail: https://support.google.com/mail/answer/6579?hl=en
Mozilla Thunderbird: http://kb.mozillazine.org/Filters_(Thunderbird)
Yahoo Mail: http://help.yahoo.com/tutorials/mmail/mmail/mm_filter1.html