Add a Location Finder Feature for Better User Experience
April 12, 2021
A great website is designed with an optimal user experience. The easier the site is for a user to navigate and find the information they are looking for, the more successful the website will be. The more a user has to hunt for the information, the less engaged a user is and the more chance you have to lose a customer.
That is why it is essential for businesses with multiple locations or vendors to design a location finder into the website. Simply displaying 100s of locations on a single page of your website is a poor user experience. It would be a lot of work for a user to be able to find the location closest to them. Even more so on a mobile device where searching through a page with the web browser's default search bar is even less desirable.
There are a lot of ways to approach a location finder feature to improve the user's experience. It really depends on your business and there is no one-size-fits-all solution here. Typically a location finders display a Google Map with markers on each of the locations you want to display on the site. Having an interactive map on your website to visually represent all of your locations is a great way to engage and communicate useful information to your users without overwhelming them with lots of excessive content.
Location finders usually include a list of all the locations and relevant information pertaining to each, most notably an address, hours, and phone numbers. For added convenience, there you could also add a button that will take the user to Google Maps to get directions to a location.
A well-designed location finder on your website can make all the difference. At Simplistics Web Design Inc., we've designed and developed a number of different location finders for our clients that all function slightly differently to fit their specific needs.
Dainolite
At Dainolite, a basic location finder is used with a list of locations to the left of the map. Users are able to filter by their postal code. This helps customers find a local vendor who sells their products.
Fafard
At Fafard, this location finder allows a user to search through locations with a filter depending on if the locations sell their products in bulk or individual bags. There are also customized map markers to match their brand colours, and users can also click a button so the browser will automatically determine their location.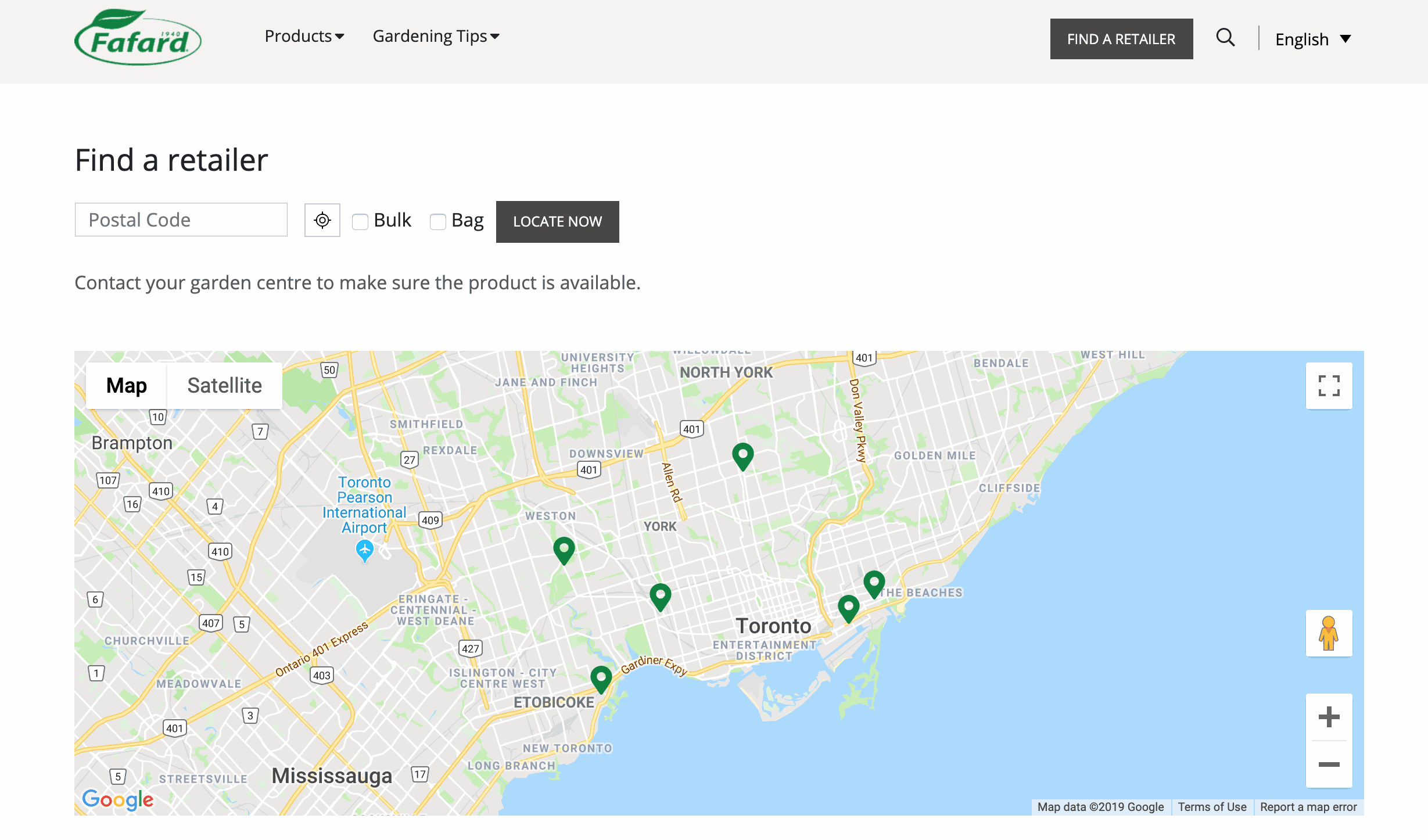 Green Circle Salons
At Green Circle Salons, users can enter their location and filter different brands to show a list of the closest locations. The markers are customized like Fafard, and below the locations are listed with links to each of their respective websites.