Why some websites wont work – Website Usability Guidelines
July 18, 2013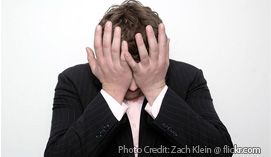 Over time your website will become obsolete. A web application that was developed a few years back can now be seen as obsolete and difficult to use.
My father was on the phone with a tech-support agent because he was having trouble viewing invoices online.
Internet Explorer wasn't working and the only alternative browser supported was Firefox. Doesn't this mean that a huge percentage of the internet is unable to use their web application? Leaving out Chrome and Safari support is telling half the internet they can't use this site.
No matter what modern browser people use on your website, they should all experience the same functions and features.
So if your web application was developed in the Stone Age, maybe it's time to upgrade? Your customers will thank you.